Catering Delivery - 100 count Pretzel Bites and Dips Ready to Eat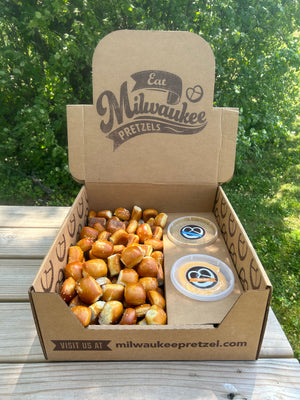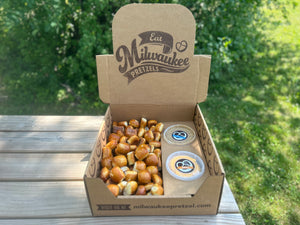 PLEASE NOTE THIS ITEM CANNOT BE SHIPPED. DELIVERY TO WAUKESHA, MILWAUKEE & OZAUKEE COUNTIES ONLY! DELIVERY FEE IS INCLUDED.
Non-catering products must be placed as a separate order.
Add a twist to your next gathering with a bites and dips box! Each box comes with...
Hundred (100) pretzel bites salted and ready to eat
Two (2) 1LB containers of your choice of dip
Display box for easy serving (see photo)
100 count bites serve 8-12 people 
Important Ordering Information - Please read through before ordering!
Shipping address entered at checkout will be the delivery address.
Please put any special instructions in the notes section found in your shopping cart

 

before

 

checkout.
Delivery will be within 30 minutes of your selected time.
Please make sure a valid phone and/or email address is included with the order
Delivery is only available to Waukesha, Milwaukee and Ozaukee counties
Hours for delivery are Monday through Friday from 10a - 4pm.
If you would like any of your pretzels unsalted please reply to your order confirmation email with the amount you'd like unsalted.
Pretzel Care
Your pretzels will be baked, salted and sleeved within a few hours of their delivery. They will not arrive warm and they do not need to be kept warm. Pretzels will remain fresh for up to 6 hours in open air after delivery - though we doubt they'll last that long! Any remaining dips should be refrigerated. Our delivery team will set up the display box and be available to answer any questions. 
If you have any additional questions please email help@milwaukeepretzel.com.